You Need Art!
February 24th & 25th at 5-8pm
Art Lovers,

Please join us on Friday and Saturday February 24th & 25th, for our You Need Art group show!

Stop on in Friday or Saturday from 5-8pm for the total DLG experience.

2023 is off to a great start for helping happy art collectors improve their art collections at the DLG. This our 32nd year selling art on the block. We carry a wide range of Contemporary, Pop, Folk and Photography by local, national and international artists. Howard Finster, Matt Lamb, Peter Mars, Paul Kostabi, Chris Peldo, Peter Hurley, Caleb Mulholland, Candy Palermo Giancarlo Montuschi and Donald Topp works have all found their homes in new collections recently. For the full list of mind-blowing artists available, see here

If it's been a while since you popped in, come on down to see what's new!

In my largest single art purchase ever I acquired 222 Matt Lamb paintings! This giant collection includes works of many sizes, 2'x2′, 4'x3′, 4'x4′, 7'x5′ on up to a 9'x15′ painting! This now brings our Matt Lamb works collection to over 400 pieces. This is 1% of his total artistic output of 40,000 art works.

We have over 200 works on paper by renowned Pop artist Peter Mars, including an extensive selection of many of his most popular and classic imagery.

The Donald Topp collection here at the DLG is truly awesome. We recently sold our 869th piece in 8 years and 1 week. That's one every 3.3 days for the whole time. Which is very impressive! I truly don't know many artists that can say the same.

As I always say, the average one-bedroom apartment needs 21 pieces of art if you want it to look smokin'! All of the art here at the DLG looks even better in your home or office. We can help you out with that!

At the DLG, we are driven by making high quality art affordable to all levels of collectors. We offer the DLG payment plan at no interest which we feel garners interest!

The DLG website is enormous as well as e-commerce capable. I love that we offer the ability to browse and build your collection from your phone. Enjoy!

Yours in Art.

My very best,
David Leonardis
312-863-9045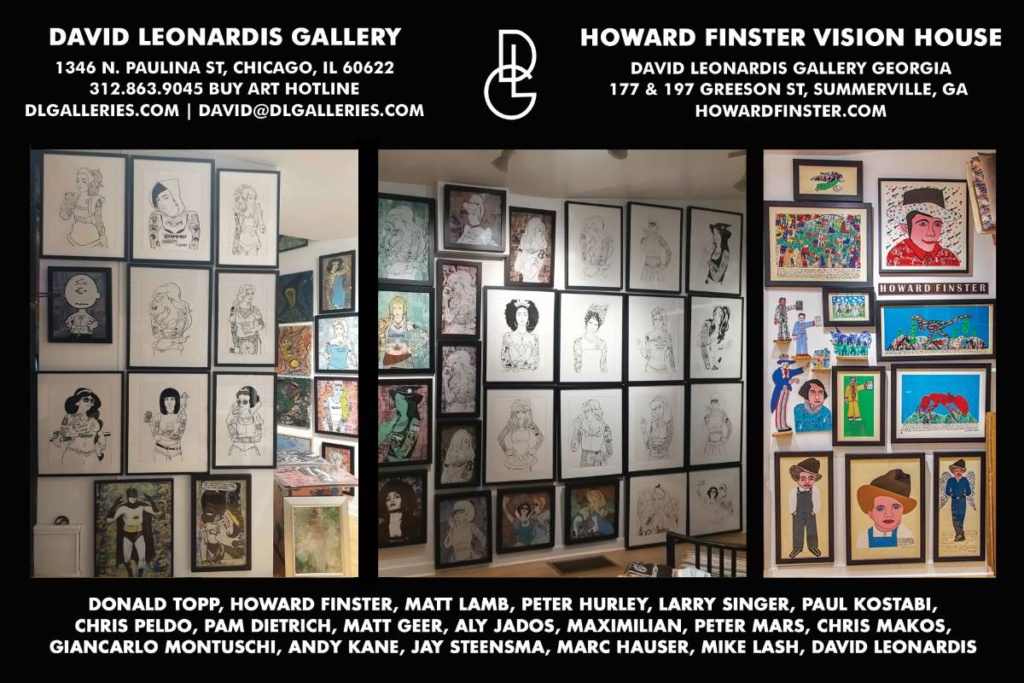 New
Peter Mars Batman and The Queen
Matt Lamb is a masterful painter whose work has impacted the lives of many. Born in Chicago in 1932, Matt Lamb dedicated the last half of his life to using art to spread his message of peace, tolerance, hope, communication, and love among human kind. As a testament to his influence as an artist and as a human being, museums in various corners of the world are dedicated to the great American painter. When you own the art of Matt Lamb you not only own great art, you own a significant part of the global effort to bring peace to humankind; a big deal in and of itself. 
Mainly, art is a tool to distract the brain, showing beneficial outcomes by;
Building cognitive development

Increasing empathy

Physical health benefits

Social benefits

Forming identity benefits

of course, it's investment value
It's been an art collector filled year and I continue to help art collecting folks with art from my DLG collection, which includes Donald Topp, Matt Lamb, Indrek Paul Kostabi, Peter Mars, Matt Geer, Maximilian, Ron English, Giancarlo Montuschi, Marc Hauser, Howard Finster, Peter Hurley, Chris Peldo, Shane Swank, Jay Steensma, Bruce Bitmead, Kristen Thiele, Mark Kostabi, Bruce Lehto, Christopher Makos, Patrick McMullan, Andy Kane, Rita Leonardis, David Leonardis, Ben Laskov, Tristan Meinecke, Larry Singer, Tom Billings, Pamela Dietrich, Tom James, Mike Lash and others.
As an Art Dealer and Gallery Owner in my 32nd year, I have always known the importance of having a balanced art collection. As represented by my gallery, my favorite style of art is direct, feel-good, Pop Art. However, my vision is not confined to a singular approach. The various artistic forms that diversify my collection include:
Contemporary Art: the movement has a broader scope and can activate a variety of different emotions in different people.

Folk Art: which is enjoyed primarily for the simplicity, honesty, and distance from the formal art world.  

Photography: the medium wields the ability to represent a snapshot of a moment in time, allowing the viewer to relive the feelings that are captured.
More and more people are finding that "collecting art as a lifestyle choice" has incredible benefits. I've helped thousands of people begin or enhance their art collections.
As you can see, art has the power to transform lives and my passion is assisting others in growing their art collection. Please stop by or give me a call! As always, I offer delivery and installation in Chicago with all of the art here. I will come to your home or office, and put my art in the best spot!
We recently placed our 859th Donald Topp in a happy collector's home since January 15th, 2015. The Queen of Hearts and Sailor Moon are Topp's latest pieces added to the DLG walls. With flawless execution, his Icon Prints and Cartoon Tattoo Hipster Girls series are consistently connecting with people from all walks of life, even on an international scale. Topp prints, purchased at the DLG, have been added to collections in Australia, England, Germany, Japan, British Columbia and Dubai. A few more countries and continents to go but I'm up for the challenge!
Howard Finster Vision House Museum update:
I finished up the year at the Howard Finster Vision House Museum with an enormous amount of capital improvements to the infrastructure. The crew built an amazing side porch and extended the front porch. Additionally, we now have two forms of egress for all sections, including both apartments and the museum collection itself. Added throughout the rear apartment are new accents of wood burn molding strips. There are just a few more touches and the Howard Finster Vision House Museum B&B will be ready finally in spring of 2023.
In the 1990's I was constantly visiting Howard and buying originals and having him sign a serigraph print edition. Howard was such a giving man. I know he appreciated me promoting him and he was always very interested in me personally. Knowing I didn't have much family interaction at the time, he made me feel welcome, appreciated, and needed. That continued until I literally visited the Reverend on his deathbed. I remember him telling me, "Well, I'm not feeling so good but you go ahead and get some food out of the ice box". Indeed, he continued to be gracious even with one of his last dying breaths. I know that during that visit I received his "Death Energy Shot" that has empowered me to do all I have done and all I will still do for theHoward Finster Vision House Museum Campus.
I recently set a 10 year goal to build a new Contemporary Art Museum building on the HFVHMC. It might take longer but I'm shortening the time span it will take to achieve this monumental goal.
Can my 501c3 corp be far off? I think not. I've had the plan to fix the HFVHM how I wanted it before I started a 501c3 and we're 95% there.
Every upgrade is always needed and appreciated. I constantly strive for "Discernible Progress".  The HFVHM has been a 17 year labor of love and it's beyond satisfying to see the fruits of my labor come together. Looking forward to having some guests to our AIRBnB the beginning of next year.
Have an art filled day.
-DL
Howard Finster Vision House Museum &
David Leonardis Gallery Georgia
177 & 197 Greeson St.
Summerville, GA 30747